"
Why pick me? Because I am fit, smart, nice, cool, people loving, animal loving, loving in general, exciting and thrilling.
"

— Madison
Refresh for another quote
Madison
Deadly Parrots

Gender
Female
Hair color
Brown
Eye color
Black
Label
The Overconfident
Episodes
2
Eliminated
TBA
Place
TBA
Friends
Iris
Voiced by
Aidan Connor
Madison is a camper from Total Drama Gone Wild and is a member of the Deadly Parrots. She is currently in the competition.
Personality
Edit
Madison is really INTO SPORTS. Like, highly into it. She adores sports, and her sports exercises as well as routine, have influenced her personality. She is warm, constantly energetic, and nothing can let her down. Madison can be competitive in some circumstances, challenge-wise or social-wise. But she will try anything to have her everything to be loved by society.
Audition Tape
Edit
Madison is seen in her room, thinking off examples of why she'd be a good contestant to have on the show. As she names each respectable quality about her, it cuts to an example of that quality. The audition tape ends with Madison saying that she is C-O-N-F-I-N-F-T...CONFIDENT!!
Total Drama Gone Wild
Edit
In Beginners' Luck - Part 1, Madison is seen on the plane when Iris asks her if she likes kickboxing and would like to see some of her moves. She responds with "Is that even a question?", after observing Iris accidently kick a hole in the hull of the plane, Madison cravenly states her worry in view of the circumstance at hand. She is the second contestant to jump out. When Chad and Jade use a motorboat to get to shore, Madison is in shock, but shakes it off and begins to swim to the island after politely seeing off her fellow contestants. She arrives at shore and asks Nate how he feels, showing concern for him after he falls upon the sand. Once Chris announces that the challenge is finished, Madison reminds the host that not everyone has made it onto the island. After correcting her, Chris places Madison on the Deadly Parrots.
In the next episode, Madison notices Iris and asks what happened, after stating no one can be trusted, she asks Iris if she would like to be friends for the game. After telling Iris it's not an alliance, she agrees and they both run off together. Madison's team wins and is safe from elimination.
Galleries
Edit
In Madison's audition tape, Taylor (a Ridonculous Race contestant) appears at the theatre

Chad's hair is visible at the theatre as well.
Additionally, Madison's audition tape is the only one that doesn't contain the green parrot
Madison is the only character to appear twice in the theme song.
Appearances
Edit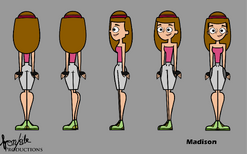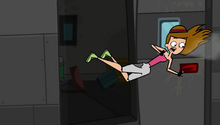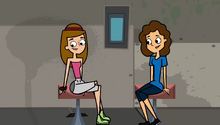 Madison

Interactions with

Iris

Other

TBA Alliance
Aidan Connor