This article focuses on the interactions between Chad and Jade.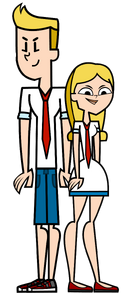 Chad and Jade share similar interests, due to being best friends and both have a serious hatred for everyone else, they see no issue in talking and showing there distaste. From the first episode, it is clearly seen that they are only comfortable around each-other and no one else. They interact even prior to being placed on the same team
Opening Sequence
Chad and Jade are seen tanning or sunbathing beside each-other at the end of the intro (and are the only ones not to be sitting on stumps), smiling happily as they do so.
Jade becomes happy upon seeing that Chad is also on the show, she races towards him and slams Bobby Joe off of his seat to sit next to Chad. They begin discussing how they both signed up and the two both agree that the others are "terrible people." They both share a laugh after stating how they wish more people were like them. Later, Chad and Jade are both seen clinging onto each-other after Iris has made a hole in the plane. After falling out, Chad asks his dad to aid him for the challenge, by sending a motor boat, and he allows Jade to cruise with him as well. 
Jade

Interactions with

Chad

Other

TBA Alliance
Chad

Interactions with

Jade

Other

TBA Alliance